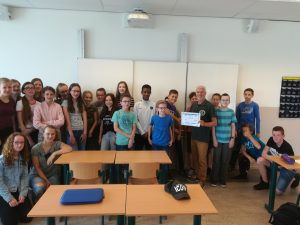 After an interesting lesson about Lalibela in April and a successful sponsored run back in May, the revenue collected was announced on 12 June in the presence of of the Foundation secretary Stef Pennings and the class. The fantastic amount of 426.17 euros will soon be deposited into the account of our foundation.
Stef told the class that this money is due for spending on their blind peers in Ethiopia. By using voice recorders and laptops, our blind pupils/students can follow education better.
Thank you all for your commitment and we hope to be able to come back next year.